Always the best seat in town...
Ticket Sports Pub featured in SA Express-News Weekender Pub Crawl - read about it! Free parking every Tuesday in city garages after 5PM, plus Happy Hour extended until 9PM! Also enjoy 20% off discounts at Toscana, Oro (inside the Emily Morgan), Hard Rock Cafe, and Houston St. Bistro (only 15%) on free parking Tuesdays! Use St. Mary's garage at St. Mary's and Travis.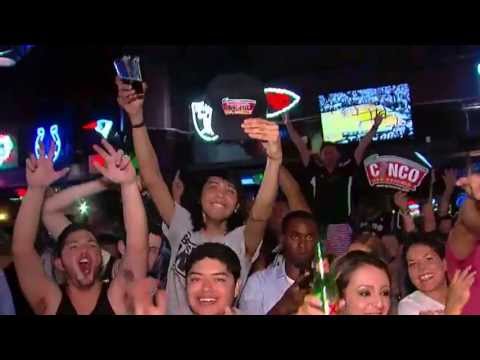 Having fun at Ticket Sports Pub
The Ticket Sports Pub is San Antonio's premier sports bar, featuring 14 hi-definition big screens, surround sound, NFL Sunday Ticket, NHL Center Ice, MLB Extra Innings, NBA League Pass, ESPN Gameplan, UFC pay-per-views and much more. The Ticket is all about watching your favorite team, great service, draft beer, full bar, awesome pizza & wings, all in a clean, friendly, casual atmosphere that is totally unique to downtown San Antonio.
Located in the historic Houston Street district, we are stone's throw from the Riverwalk, Alamo, and all of the popular downtown hotels, restaurants, and tourist attractions. We open at 11am on Saturdays and Sundays during football season - come early to enjoy a truly great sports-watching environment with virtually every televised game of interest on and probably the most diverse group of sports fans you will ever encounter. Want to make things interesting? Take your pick from the best online casinos and bet on NBA games, the NFL, UFC and all your favorite sporting events.
San Antonio Magazine Best of the City 2011
San Antonio Current Reader's Poll Best of 2010, 2012, & 2013 Best Sports Bar